LIMESTONE CLEANING AND SEALING PERTH
Limestone is one of the prevalent materials used in construction because it is not only exquisite and remarkably durable, but also naturally available.
In Perth, limestone is commonly used in construction. For houses, it is used on walls, columns, and flooring or paving slabs, as well as a decorative element in landscaping.
Limestone is known to have a rough surface that easily attracts dirt and grit. It is highly porous, so it quickly absorbs moisture, and oil can easily seep in and leave stains. Its high calcium content makes it prone to acid attacks from spilled acidic substances like cola, wine, and lemon juice. These characteristics of limestone encourage the growth of bacteria, mildew, mold, and moss.
Do you have limestone in your Perth home that is starting to look moldy and dirty? It could be mildew, mold, or just general dirt and debris.
WHY YOU SHOULD NEED TO RESEAL YOUR LIMESTONES
The best way to take care of limestone is to seal it. A1 Driveway Coatings offer the best professional cleaning and sealing maintenance to bring out the best of the limestone in your Perth home.
If your limestone walls or paving are already dirty and show visible surface growth, it likely requires pressure cleaning before resealing. It is essential that there are no contaminants to ensure the effectiveness of the sealer. Resealing not only protects the limestone from the elements but also improves and brings back its beautiful appearance. Resealing is also a terrific way to prevent staining.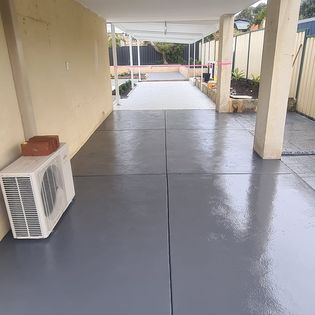 HOW OFTEN SHOULD LIMESTONES BE CLEANED AND SEALED?
Cleaning and sealing limestone makes it last longer. The duration between cleaning and sealing primarily depends on the type of sealer used. However, if the limestone is exposed to harsh weather conditions and high amount of foot traffic, it should be cleaned and sealed more often. If your limestone gets stains often and start to look patchy, then it must be sealed immediately.
HOW A1 DRIVEWAY COATINGS CLEAN AND SEAL YOUR LIMESTONES HERE IN PERTH
The worst thing that can happen to limestone is an acid attack because it is challenging to reseal. Spilled acidic substances must be cleaned up the soonest, as much as possible, to minimize etching or corrosion. It is important to note that acidic cleaners should never be used for limestone.
Before sealing, our professional team at A1 Driveway Coatings ensures that the limestone surface is perfectly clean to avoid stripping the sealing and restarting the entire process. We only use a pH-neutral detergent and keep the cleaning pressure at the recommended setting. We see to it that the limestone surface is completely dry, pristine, and free of any topical coating like wax.
Because limestone is porous, it should be able to breathe and allow moisture to evaporate. A1 Driveway Coatings is mindful of this, so we only use deep penetrating sealers to provide the best protection against staining and soiling, while maintaining the limestone's natural colour.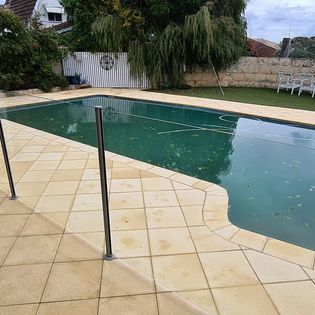 BEFORE AND AFTER LIMESTONE RESTORATION
HOW LONG DOES LIMESTONE SEALER LAST?
Deep penetrating water-based sealers protect limestone for up to more than a decade, while topical sealers can only provide protection for up to three years.
Our professional team at A1 Driveway Coatings is happy to assist you with your limestone cleaning and sealing enquiries. We are a trustworthy, family-owned Perth company that has been in the business for 20 years. With much experience, our professional team of experts can guarantee that your pavers and walls will not be damaged, and we can assure that your family, pets, and garden are safe from harsh chemicals. We at A1 Driveway Coatings are dedicated to helping you protect your investment and keep your homes looking great.