Driveway Coatings in Perth, AU
Give your house.....​a FRESH NEW LOOK!!
If you are looking for driveway coatings and concrete painting services in Perth, Australia, look no further. A1 Driveway Coatings has 20 years of experience in providing quality driveway coatings, concrete painting, and cleaning services to our clients. Our team of experts is dedicated to providing the highest possible quality of service, and pride ourselves on always meeting and exceeding our client's expectations.
We are happy to answer any questions you may have about our services or about our company so don't hesitate to contact us today!
Driveway Painting and Repair
Your driveway is constantly exposed to all types of weather and conditions and traffic from your vehicles. Over time, your driveway will deteriorate and may show signs of wear and tear. Weeds may also grow and penetrate through the cracks causing even more damage.  A great way to get your driveway looking brand new again is through driveway painting and repair. No need for a costly replacement. A1 Driveway Coatings are very experienced and can instantly repair and transform your driveway.
Paver Cleaning and Sealing
Dirty and stained paving makes your home look unattractive. Cleaning and sealing your pavers can make it look brand new again. Cleaning and sealing also creates a shield that protects pavers from further degradation.  A1 Driveway Coatings are experts in paver cleaning and sealing and can help you in cleaning your pavers to make them look brand new.
Worn out concrete does not make your house look good and negatively impacts your home's curb appeal. But with the right paint, old and worn out concrete can once again look brand new and give your house a better value. A1 Driveway Coatings will work with you to achieve the transformation you desire for your house. No job is too big or too small. We also offer a personalized quote that will suit your budget.
Limestone Cleaning and Sealing
Are your limestone surfaces beginning to appear dull and discoloured? Is your old sealer wearing off? Then it's time for a thorough limestone cleaning and sealing. We can help you clean your dirty limestone surfaces and seal them to make sure that they are protected and would last longer.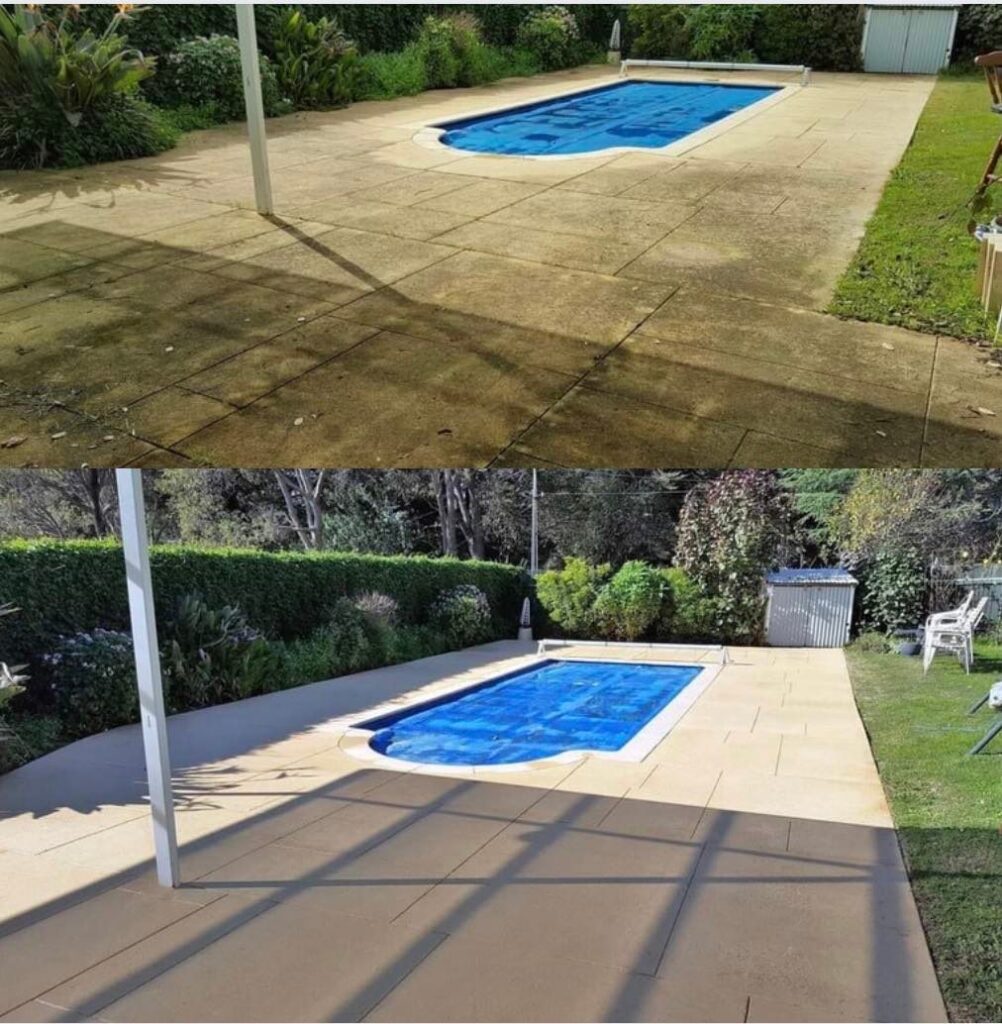 Is your driveway covered in oil stains and black marks? Do you wish you could make it look better? The solution is high pressure cleaning. With high pressure cleaning, no stain is uncleanable. We can help you remove tire tracks, oil spots, mud and grime, restoring your driveway back to life.
Why Choose A1 Driveway Coatings?
A1 Driveway Coatings  has 20 years of experience 

We have extensive experience in concrete driveway painting, high pressure cleaning of dirty pavers, cleaning and sealing of all surfaces.

We have completed thousands of jobs of varying scale around Perth and are geared to service both residential and commercial properties.

We offer fair and transparent pricing and provide personalised, tailor made solutions for your specific needs.
Check out our recent projects. Want your driveway, home or patio to look like the after photo?
Find out what A1 Driveway Coatings can do for your property!
Whether you have a question about our services, need a quote or
anything else, our team is ready help. Send us a message
and we will get back to you shortly!
Area Service: Perth and Surrounding Suburbs